We are thrilled to announce the launch of new features in the Accumulate Mobile Wallet! The Mobile Wallet launch includes upgrades to advanced features that will simplify the next generation of DeFi and dApps as part of Accumulate's goal to realize the full potential of Web 3.0.
The Accumulate Mobile Wallet was created to be an easy-to-use application to transact on Accumulate's testnet. Some of the main features that you can now access as part of the Accumulate Mobile Wallet:
Create an Accumulate Digital Identifier (ADI)
Create an ADI Token Account
Advanced Key Management
Use the Token Faucet to Issue Test ACME
Transact on the Accumulate Testnet
Create an Accumulate Digital Identifier (ADI)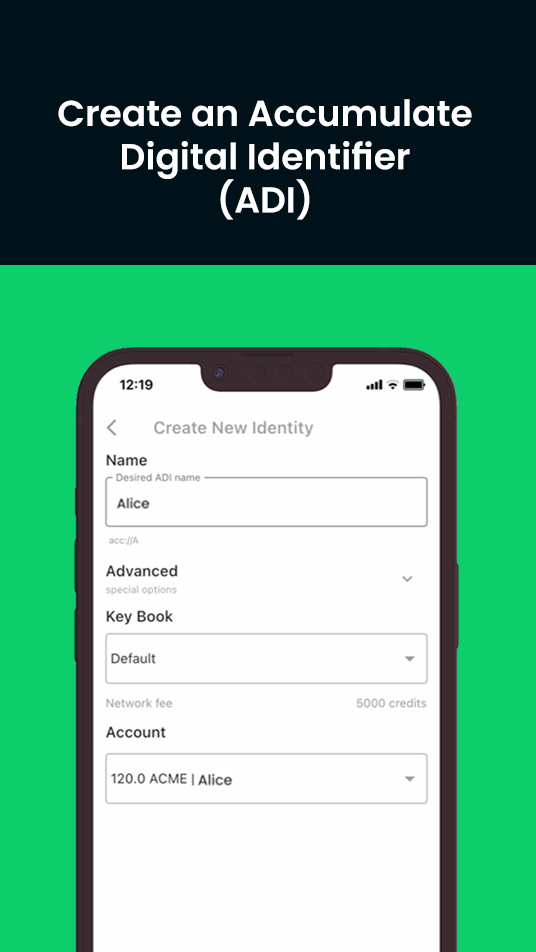 One of the core components of the Accumulate blockchain is a feature known as Accumulate Digital Identifiers (ADIs). ADIs can manage data, tokens, and sub-identities with customizable levels of security, and with a wide range of hierarchical signature options. For example, a high-priority master key can manage the settings of low priority keys on the network, reassign ownership, or create backups. These high priority key functions have a greater level of responsibility and control than a lower-level subordinate key. Imagine giving a consortium the ability to control a user's identity and data, but with the user's permission under a mutually-agreed upon set of parameters.
Additionally, an ADI is a digital, distributed identity that can receive or send tokens similarly to a Bitcoin address, but there are several key improvements:
Flexibility of user management (person, organization, or IoT device)
Enhanced multi-signature functionality
Granular control of user identity by one or multiple parties
Lite Accounts are a mini version of ADIs that appeal to users who want to do things like send and receive tokens, or maintain a record of token accounts and transactions. Essentially, Lite Accounts are a simplified ADI that manages only one type of token. While multiple accounts can be used by a user to store multiple token types, Lite Accounts lack subchain and key hierarchy features. Lite Accounts are independent although two Lite Accounts can interact with one another by sending or receiving tokens similar to what you may be familiar with if you already have a blockchain wallet.
Read more about the benefits of identity-based addresses in our previous article right here.
Create an ADI Token Account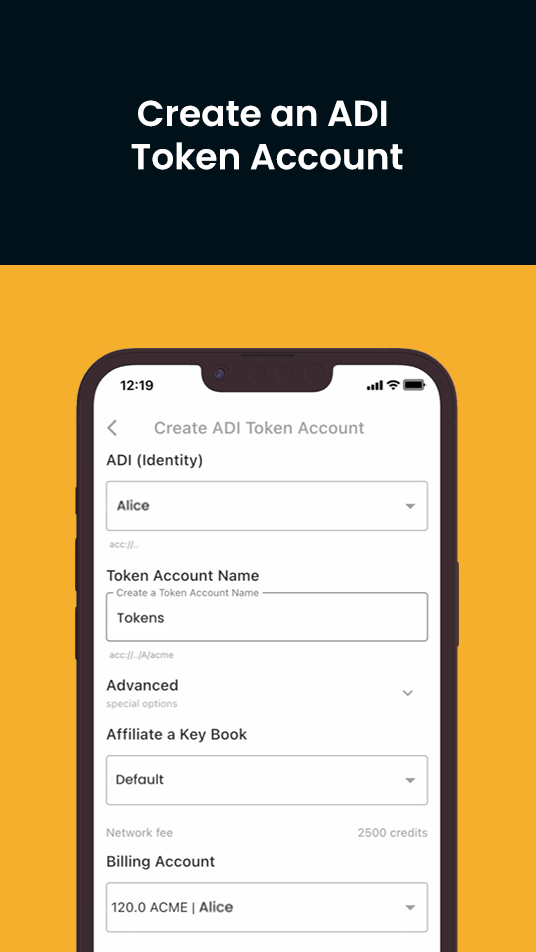 You can send and receive tokens through an ADI token account, which is referenced by a URL and handled in its own sub-chain. The unique placement of an identity-based URL within a subchain allows transactions on the Accumulate blockchain to be granularly programmed and controlled, meaning the people using the network can make the rules rather than the network itself. To this point, network transactions are administered by individual token chains that are identified by a URL. Inside the token chain is a list of every transaction that has ever been created by a single user, whether that be an enterprise, an individual, or an IoT device.
Each token account holds a particular type of token, and an identity can hold accounts for many token types. For example, you can have one account for everyday payments and then another account for long-term savings.
Advanced Key Management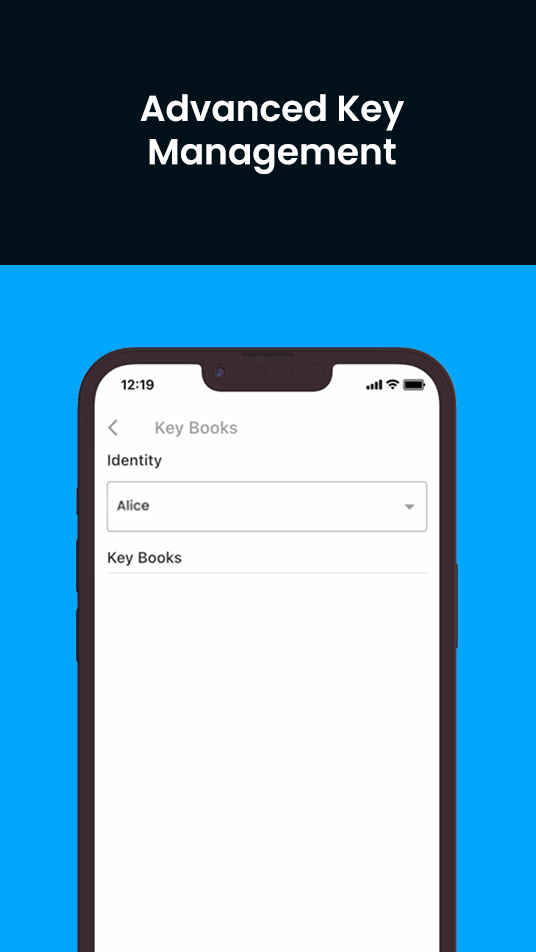 Accumulate's framework allows for the unique ability to manage key permissions over time. This feature unlocks a host of additional functionality that is appealing to enterprise-level clients like governments and financial institutions that require high levels of security.
Some of the benefits of Accumulates Advanced Key Management include:
Multiple-signature wallets which increase security in high-value transactions that involve multiple parties 
Backwards compatibility that delivers a level of ease for legacy keys which allows multiple parties to merge 
Upgrades or downgrades for key security may occur in real-time as they are needed 
New security protocols can take place without asking you to expose keys or move assets 
Use the Token Faucet to Issue Test ACME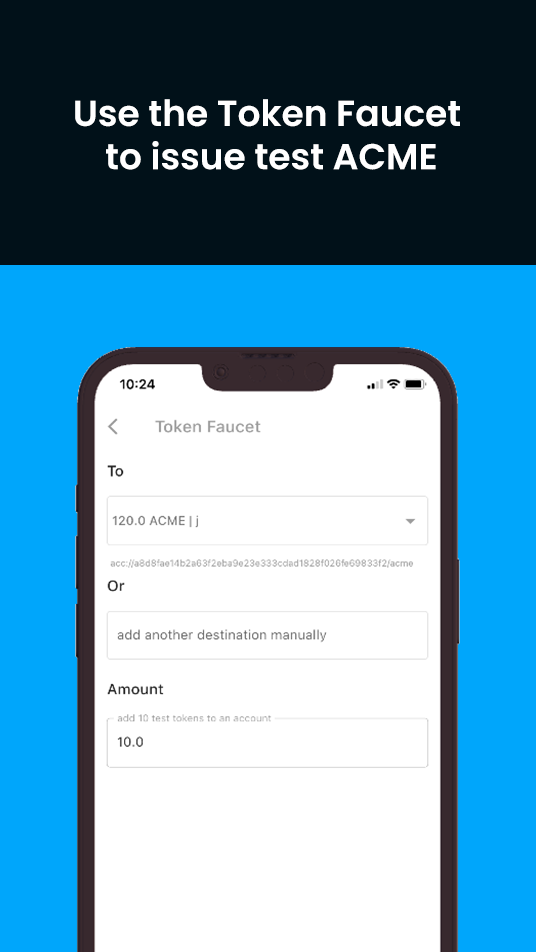 Similar to when water drips from a fountain, small increments of a specific token drop into your wallet from a "Token Faucet." A Token Faucet is an application that sends increments of a specific token for a reward or for the purpose of testing. In the Accumulate Token Faucet, Test ACME tokens are issued so that you can test our platform. These test tokens can be used to send tokens to ADIs or Lite Accounts.
Transact on the Accumulate Testnet
Transactions are now available on the Mobile Wallet so that you can easily send and receive test tokens to your ADI or Lite Account. Test tokens are freely available through the Token Faucet. Send and receive tokens and view transaction history within the app.
Sign up for the Accumulate Mobile Wallet and try the testnet today!