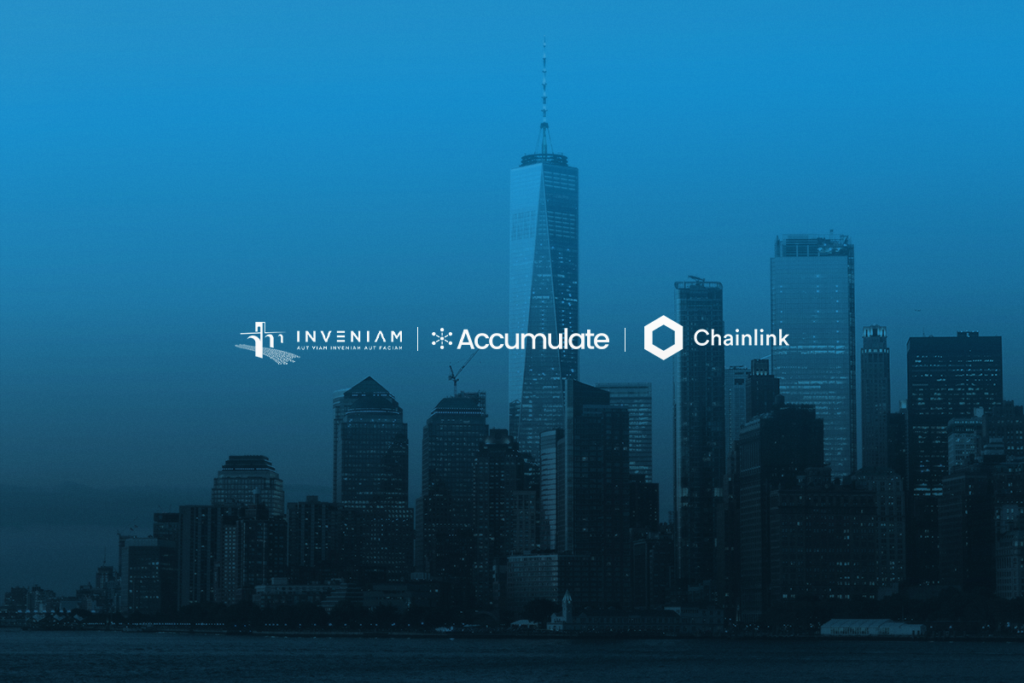 Blockchains and smart contracts have the potential to transform the infrastructure underlying traditional financial markets. This paradigm shift is already occurring, which can be seen in the meteoric rise of decentralized finance (DeFi) over the past year. While these advancements are promising, the blockchain ecosystem has historically been isolated from traditional markets. Inveniam and Accumulate aim to change that.
Using Chainlink's time-tested oracle and oracle node infrastructure, Inveniam is making proprietary data for data-rich, low-frequency-traded private assets available to smart contracts on leading blockchains. Specifically, Inveniam offers validated private asset data powering valuation, pricing, credit, and more. Bringing this validated financial data on-chain unlocks a multitude of private market opportunities for DeFi, such as the ability to use low-liquidity assets as lending collateral, the creation of derivatives around future prices, and the execution of on-chain trading opportunities against reliable benchmarks.
"Inveniam, Accumulate, and The Hub are using Chainlink in order to solve race conditions in a multi-chain environment so that there is interoperability and all transactions can be atomic, consistent, isolated, and durable. Collectively, Inveniam's going to deliver private asset data that can be utilized on multiple blockchains using the functionality that exists on The Hub and Accumulate. We're delivering data to Chainlink so that we'll have verified private market data that can be pulled from a Chainlink node and utilized by smart contracts to avoid race conditions across chains." — Patrick O'Meara, Chairman & CEO of Inveniam Capital Partners.
A Two-Part Approach to Cross-Chain Data: Accumulate and Chainlink
Bringing Inveniam's private market data offerings to public blockchains in a way that's up to Web3 standards requires a two-part solution.
The first part is data delivery. Chainlink is purpose-built, ready-made blockchain middleware that offers us a future-proof solution for making our data offerings available on all leading blockchains. By launching a node on the Chainlink Network, we're able to securely bridge data and the corresponding data proofs cross-chain to maintain robust data verifiability. Through Chainlink, Inveniam's data can be made easily accessible to all leading blockchains through a single future-proof solution.
When smart contracts request Inveniam data through Chainlink, they can use the data proof to cryptographically verify when the data was written to the original chain and by whom, and that the data has remained unchanged. However, this verification process hinges on whether or not Accumulate—a blockchain protocol that uses a delegated Proof-of-Stake model organized around identities—has cryptographic anchors on the host blockchain.
This is because Inveniam's private market data utilizes Accumulate as a metachain or smart order routing system for data that must be verified on multiple chains. Chainlink enables seamless delivery of Inveniam's data and its proofs to a variety of leading blockchains, and then delivers an additional solution for smart contracts to verify the data proofs themselves and trace it back utilizing Accumulate and the Inveniam.io platform. This is the second part of the solution delivered through Accumulate anchors.
Accumulate anchors are a basic feature of the Accumulate Network that is implemented at the protocol level. Anchors exist on a host blockchain (i.e Ethereum) and allow smart contracts to cryptographically verify the data proofs by tracing them back to Accumulate. Beginning with Ethereum and Bitcoin, anchors will be continuously be added to more blockchains so that smart contracts can cryptographically verify the data proofs—and thus the data—provided through Chainlink.
In this two-part solution, Chainlink acts as mission-critical infrastructure unlocking swift multi-chain expansion and secure data delivery. Chainlink is already integrated across the ecosystem's most prominent blockchains and Layer 2s, making Inveniam's data readily accessible as soon as anchors are available on any host blockchain.
After considering a variety of oracle solutions, we decided to use Chainlink because it offers a superior set of features:
Data Integrity — Chainlink oracle nodes cryptographically sign all data supplied on-chain to verify its origins on Accumulate.
Blockchain Agnostic — Chainlink nodes are compatible with any blockchain environment, serving as a single gateway to supply data to any current or future blockchain.
Widely Adopted — Chainlink is the most widely used oracle network in the blockchain industry, providing access to a vast addressable market of potential data consumers.
Provably Secure — Chainlink is thoroughly audited open-source software that already secures billions of dollars in value, showcasing its ability to trigger the automation of high-value smart contacts live in production.
The Accumulate Network is growing, and Inveniam's private market data has the potential to unlock a multitude of new opportunities for developers. In the quest for rapid expansion, Chainlink is a critical enabler that allows us to move fast while staying secure.
Through this integration, smart contract developers across the multichain ecosystem can leverage Inveniam's data using cryptographically secure anchors with proven data origins. This opens up a plethora of opportunities for those looking to build on top of traditional markets while using decentralized infrastructure. We're excited for the wave of new use cases unlocked by secure and easily accessible data provided by Inveniam.
"Digitizing private markets is not an easy task, and Inveniam is working to build the infrastructure necessary to enable more efficient and transparent processes. Chainlink makes it easy for any blockchain to access Accumulate's and Inveniam's validated data, helping us reach new consumers of this data in one single swoop."—Michael Creadon, President of DeFi Devs, a community developer of Accumulate.
"The combination of Accumulate anchors and Chainlink oracles is helping bring Inveniam's data to the larger Web3 ecosystem in a hyper-reliable, cryptographically secure way. By bringing private market data on-chain through Chainlink, Inveniam is accelerating blockchain innovation and helping to bridge traditional and decentralized markets."— William Herkelrath, Managing Director at Chainlink Labs.
About Chainlink
Chainlink is the industry standard for building, accessing, and selling oracle services needed to power hybrid smart contracts on any blockchain. Chainlink oracle networks provide smart contracts with a way to reliably connect to any external API and leverage secure off-chain computations for enabling feature-rich applications. Chainlink currently secures tens of billions of dollars across DeFi, insurance, gaming, and other major industries, and offers global enterprises and leading data providers a universal gateway to all blockchains.
Learn more about Chainlink by visiting chain.link or reading the developer documentation at docs.chain.link. To discuss an integration, reach out to an expert.
About Accumulate
Accumulate is an identity-based blockchain protocol with multi-chain support, human-readable addresses, and key hierarchies. Accumulate can scale any layer 1 blockchain bringing speed, scalability, security, and identity-based transactions. The protocol offers universal interconnectivity with the blockchain ecosystem and offers extensive features to power DeFi applicatives.
Learn more about Accumulate at accumulatenetwork.io.

About Inveniam
Inveniam is a Fintech company with offices in New York City and Northville, MI. Founded in 2017, Inveniam has built Inveniam.io, a powerful technology platform that utilizes Big Data, AI and blockchain technology to provide not only surety of data, but high-functioning use of that data in a distributed data ecosystem. When Verified by Inveniam™, users can obtain real-time pricing of private, infrequently traded assets, accelerate diligence, accurately price assets, and identify buyers for those assets. Inveniam's operating system credentials data to commute trust allowing payments throughout the global financial system. This ability to commute trust in data artifacts is regardless of its place of rest, origin, or application. Inveniam holds numerous patents around the ingestion of data into smart contracts.
Learn more about Inveniam at Inveniam.io.