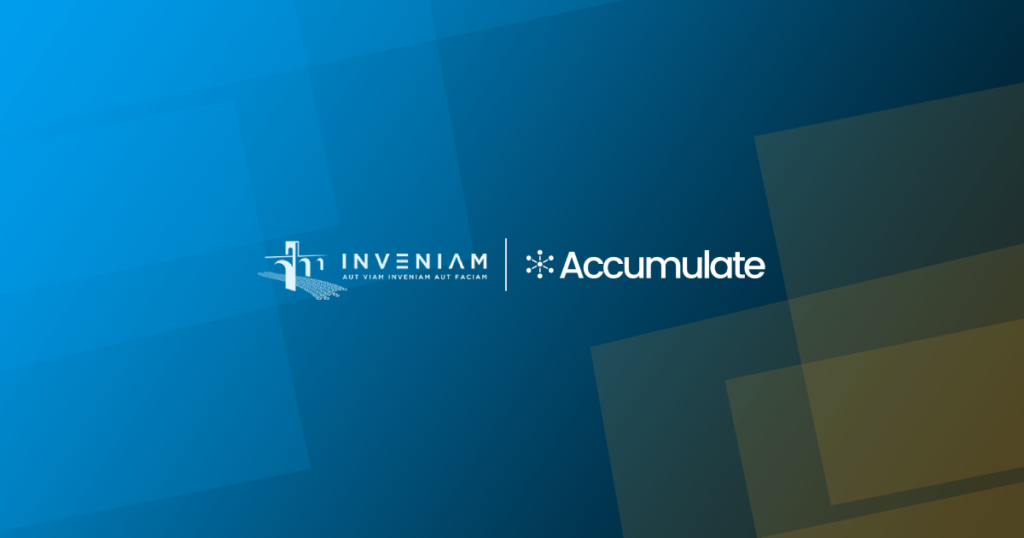 The Inveniam Metachain is designed to create a verifiable Proof of Value™ audit trail for Inveniam's Valuation-as-a-Service platform. Verified data is the core component of the platform that allows Valuation-as-Service to work, and this platform is made possible by using blockchain technology to establish the provenance and authenticity of data. Thus, the platform delivers more transparency and accuracy to the valuation process.
Inveniam has historically facilitated an environment that is conducive to genuine multi-chain functionality as opposed to the walled-garden approach that is rampant across Web2. While Accumulate will become the default Metachain option for Inveniam, it is not the only option. Historically, Amazon's Quantum Ledger has been an attractive alternative to anchor data in the Inveniam ecosystem. As Inveniam adds Accumulate as an option, it will maintain a sense of à la carte utilization that can be integrated with an array options. This aligns with the true universal interconnectivity that is at the heart of Accumulate's ethos.
This article discusses:
What is the Inveniam Metachain?
What's Special About Inveniam's Platform?
Why Use Accumulate? 
What is the Inveniam Metachain?
The Inveniam Metachain is an auditable log of all operations about an asset onboarded on Inveniam. After an asset is onboarded, the metachain further ensures that documents, data, and workflows are:
Credentialed
Hashed
Synced to the public ledger
This allows data to be independently audited while keeping sensitive information private.
What's Special About Inveniam's Platform?
Inveniam has implemented this Metachain component utilizing Factom's blockchain to immutably anchor the Metachain documents and workflow processes. After the fork of Factom to Accumulate, the Metachain project will live on Accumulate. Inveniam's platform is blockchain-agnostic. In other words, Inveniam's blockchain agnosticism allows asset owners to choose from one or multiple blockchains on which to tokenize their asset, as well as credential and sync associated data further adding to its validity. Multiple blockchain systems allow the asset to have its data split between multiple, independent blockchain ledgers.
This design creates a unique problem: there is no unified source of truth for an asset's data on a single public ledger. The Inveniam Metachain solves this problem by not only automatically syncing the data itself (creating redundancy), but also the location of each file and its sync history on every public ledger.
The Metachain leverages an immutable public ledger as its underlying database so that every operation is securely logged and impossible to modify. The platform's security and immutability further ensure that source data cannot be tampered with without the action being recorded and the malfeasance detected.
Why Use Accumulate?
Since the Metachain requires large amounts of data to be continuously synced to an immutable ledger, Inveniam is planning to use the Accumulate protocol as an option for this process. Accumulate's protocol is highly organized, scalable, and uses URL addressing for indexing data. Accumulate will not be the only choice or option for anchoring data on Inveniam. Amazon Quantum Ledger has historically been the choice Metachain to anchor Inveniam's data. Inveniam will continue to facilitate a multi-chain culture that allows many different blockchains systems to be utilized instead of creating a walled garden.
"Accumulate's innovative approach to interconnecting ledgers and using cryptographic anchors, allows Inveniam to provide a multi-chain solution while supporting the very high transaction rates required to address the millions of private asset documents we anticipate credentialing and all at an affordable and predictable cost point." says Patrick O'Meara, Inveniam's Chief Executive Officer.
Fees for other protocols are incredibly variable and create potential bottlenecks during a spike in network congestion. Having fixed fees for blockchain data synchronization allows enterprises like governments and corporations to accurately estimate expenses. Additionally, the high performance and transaction throughput of Accumulate will allow the Metachain to scale up as needed to capture the full audit trail of every asset on the Inveniam platform.
"Accumulate provides unique advantages for Inveniam and our clients. By organizing the event streams of assets on our platform by the verifiable identity of the assets on our platform, and providing a scalable, cost effective distributed network, Accumulate is a great match for our clients", says Jeff Guillot, Inveniam's Chief Product Officer.
How is this Beneficial?
The implementation of the Metachain is beneficial to not only Inveniam and Accumulate, but also to Inveniam's clients.
Inveniam
Inveniam is excited to announce the production implementation of the Inveniam Metachain component. Metachain delivers on Inveniam's core goal of credentialing both the data and processes associated with private market assets. Inveniam has implemented our Metachain using the Accumulate/Factom blockchain taking advantage of the protocol's consistent affordable cost model as well as its ability to scale to meet Inveniam's projected future transaction growth.
Accumulate
Accumulate welcomes Inveniam as a key integration partner for the Metachain project. Accumulate is the upcoming fork and upgrade of the Factom blockchain. More information about that process can be found in this blog post. Inveniam is leveraging the affordable fixed cost model as well as the ability to handle high transaction rates to launch the first phase of its Metachain component. The Inveniam Metachain provides a blockchain-based, detailed, proof-of-process by anchoring the individual service calls from the Inveniam platform via the blockchain.
Inveniam's platform creates liquidity in the private asset market through enriching and credentialing data using the Accumulate blockchain. Why? Due to the multi-trillion dollar size of private asset market, as well as the density of the data associated with those markets, Inveniam can make use of Accumulate's dependable and affordable cost model. Additionally, Accumulate offers the ability to handle millions of transactions per month.
For Inveniam's Customers
By leveraging different aspects of its platform, Inveniam delivers highly-functional asset credentialing and monetization to its clients. Inveniam credentials documents and data behind private market assets thereby improving the liquidity of those assets. With the Metachain, Inveniam can credential the processes behind the data and documents, thus further enhancing the value Inveniam can deliver to its clients. Inveniam remains blockchain-agnostic and its multichain approach offers options to end users.
In Conclusion
Inveniam's Metachain offers a multitude of benefits for the Inveniam ecosystem and its clients. Accumulate can deliver on Inveniam's requirement to continuously process a high volume of immutable data in real-time. Accumulate is beneficial in maintaining greater organization and scalability through the use of URLs as tools for indexing data.