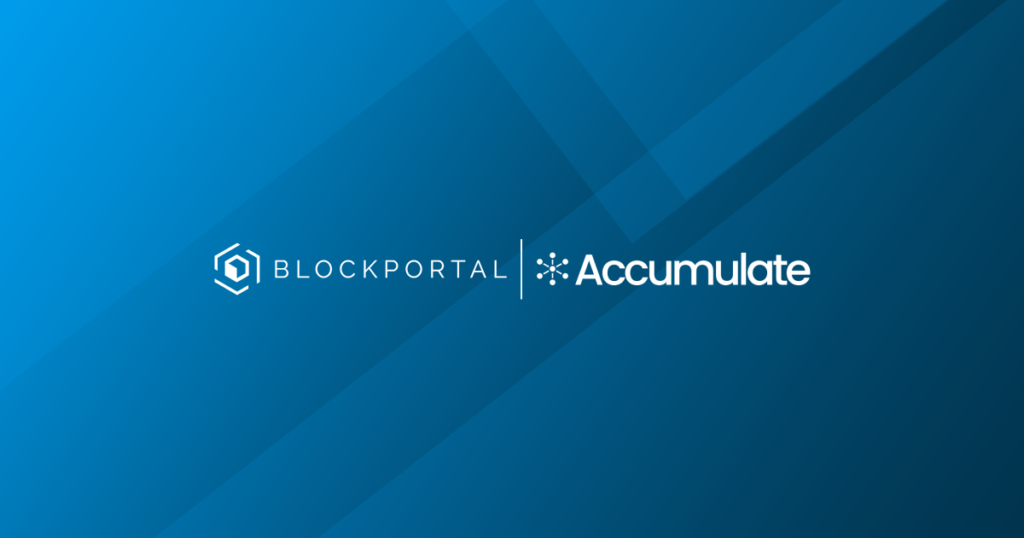 Modern enterprises often have hundreds or thousands of dormant data sets. As new oracle technology for data consumption comes online, there are ways for that dormant, proprietary data to generate revenue in a way that costs nothing to the data provider while also maintaining privacy privileges associated with that data. To generate revenue, that data just has to be made available in a marketplace to other entities that would be interested in that data.
That's where BlockPortal comes in – one of Accumulate's partners in the Inveniam ecosystem. 
This article discusses:
What Makes BlockPortal Unique?
BlockPortal and Accumulate Partnership
Use Cases Beyond Accumulate
How BlockPortal and Chainlink can Work Together
How BlockPortal Automates Smart Contract Processes
What Makes BlockPortal unique?
BlockPortal is an infrastructure for private data sharing. While other protocols may focus on public data and decentralizing the sourcing of public data by using a number of providers, certain data sets only come from a single source, and there are very few processes to maintain the integrity of the source and distribute that data. Additionally, there are limited development initiatives that define how data can be used, so BlockPortal is hoping to create an infrastructure to enable the usage and monetization of that private data. BlockPortal can help private data owners monetize their data.
Data that is captured, consumed, and created is forecasted to grow to 180 zettabytes between 2020 and 2025. To put a zettabyte into perspective, it has been calculated the requirements for storing all human speech that was ever spoken as roughly 42 zettabytes.

BlockPortal sources private data that is siloed in places that might have utility to the public, either in its raw state or in some sort of transformed state, with calculations that hide the raw data. Additionally, BlockPotal can aggregate data from many private data sources and make it consumable, like a web3 version of Statista.
The potential impact of BlockPortal's mission could be very significant. For example, this could have implications for academic institutions that want to share private data openly while maintaining the integrity within the privacy of that data.
BlockPortal could aggregate proprietary data and, through its partnership with Accumulate, take proprietary data so that it can be further:
Distributed
Verifiable
Immutable
BlockPortal and Accumulate Partnership
Once anchored to Accumulate, the state of the data can be used in various ways, with the main application for this immutable data being used to meet regulatory and compliance requirements. However, generally speaking, BlockPortal enhances proprietary data to meet a robust number of needs with financial implications, including environmental, social, and government (ESG) requirements and regulatory and compliance requirements.
BlockPortal and Accumulate's relationship revolves around anchoring proprietary data through Accumulate due to Accumulate's:
Consistently low and predictable costs
High transaction throughput
Architecture
Auditability
Proof of process
Data Use Cases
BlockPortal's primary focus is on connecting providers and users of real asset data. For example, real asset owners could provide financial data that can be monetized via price indices or other novel financial products.
Beyond that, the BlockPortal team foresees other categories of data such as IoT. In 2021 alone, there were more than 10 billion active IoT devices, with forecasts expecting that number to hit 25.4 billion devices total by 2030.
Additionally, BlockPortal envisions that the data they make available can be used to manage carbon credit-related items, such as issuance of carbon credit, and follow up on the projects where the carbon credits originate to ensure consistent execution on promises.
BlockPortal identifies situations where they can find data from multiple sources and then deliver insights that people would be interested in purchasing or consuming. Then, BlockPortal would use a blockchain feed to generate revenue back to data providers in an immutable, higher performing, and low-cost way. BlockPortal enables data providers to take advantage of data they otherwise wouldn't know what to do with and create new streams of insight-driven revenue for those enterprises.
BlockPortal Delivers Data On Chain
Proprietary data is often inactive outside of technology company databases. While data may be used internally for analytics and metrics, BlockPortal has seen demand for this data outside of tech companies themselves. If companies have the opportunity to ethically monetize that data, it's worth consideration because monetization has little cost to the company. It's data that may go unused and it's already collected and what matters is passing on the reputation of the data provider. BlockPortal enables web3 data sharing to anyone that wants to make their data available to smart contracts.
If a company wants to automate a particular process using smart contracts and doesn't know how to do that, or if a company has an existing relationship with a third party that needs the data, BlockPortal can enable permissioned usage of that data for a robust variety of purposes. BlockPortal uses an oracle-as-a-service model instead of a pay-per-query marketplace approach.
In Conclusion
BlockPortal makes proprietary data from private companies more consumable, allowing data owners to generate income and become aggregated to be used in a wide variety of use cases. Accumulate's partnership with Blockportal strengthens that data by making it immutable, consistently low-cost, further distributed, and verifiable.