The Decentralized Identity Platform
Accumulate Digital Identifiers (ADIs) represent a decentralized identity solution that enables people, organizations, and things to associate data and interact with each other in a secure, private, and streamlined way.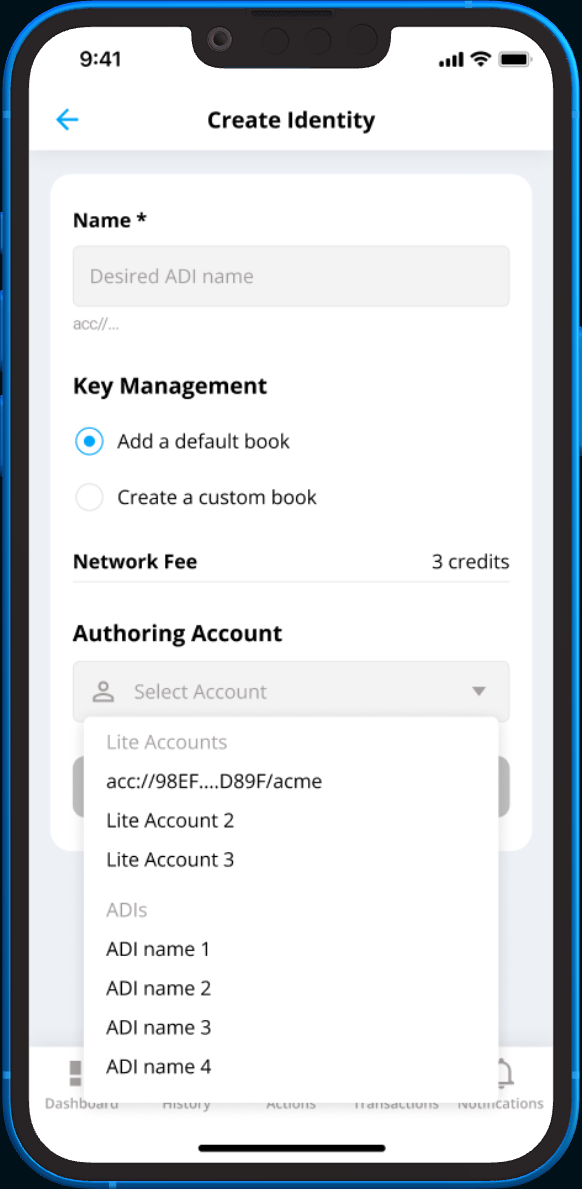 Who or What Can Be Assigned A Digital Identity?
People
A person or individual can have an ADI.
Entities
An entity could be a business or any type of organization.
Devices
Any type of device could be assigned an ADI.
Things
Any object can be assigned an ADI.
What Are Example Use Cases of Decentralized Identities?
Admissions
Badges
Certificates
Degrees
Digital ID
Exams
Transcripts
Access Management
Awards
Benefit Distribution
Business Licenses
Certificates
Civic Records
Driver's Licenses
Digital ID
Passports
Property Records
Certificates
Digital ID
Health Records
Medical Licenses
Prescriptions
Vaccinations
Awards
Certificates
Department ADIs
Digital ID
Division ADIs
Food Services
Invoices
Job Reference
Loyalty Program
Supply Chain
Account Details
Agreements
Asset Ownership
Digital ID
Document Credentialing
KYC Compliance
Statements
Boarding Pass
Bus, Train, Flight Tickets
Car Sharing Membership
Parking Permit
Travel Card
Travel Insurance
Amusement Park Pass
Gym Membership
Event Ticket
Library Pass
Museum Pass
Accumulate Digital Identifiers (ADIs) can be used in any industry to assign an identity to a person, entity, device, or thing.
An Identity-Focused Blockchain
Accumulate is at the intersection of identity and blockchain which enables organizations to comply with regulations. Integrating identity in a business or organization proves the process and the data.
Identity Ecosystem Use Case
The Sphereon Verifiable Data Exchange (VDX) platform enables organizations to quickly build and deploy advanced solutions to manage, share and process data in a secure, verifiable, and privacy-protective manner. Data or documents are digitally signed at source by the issuer, securely held and controlled by the owner and automatically validated for their authenticity by the recipient.
Based on open W3C standards and specifications for Decentralized Identifiers (DID) and Verifiable Credentials (VC), our data exchange solutions are globally interoperable and can connect seamlessly with existing IAM and Business Applications. This ranges from existing OpenID Connect integrations, to trustless self-issued OpenID Connect and OpenID Connect for Verifiable Presentations
As an example in GovTech, Sphereon built a product with the Dutch Ministry of Justice and Security for a digital ID-card. Initially built for special investigators, it enables the holder to identify themselves and their mandate. They can selectively disclose personal or detailed information depending on who requests this information, e.g. the general public receives only limited information while another judicial branch or government body is entitled to see the full information.

Web 3 Identity Report
Find out how identity will play an important role in the broader scope of Web 3 in this free report.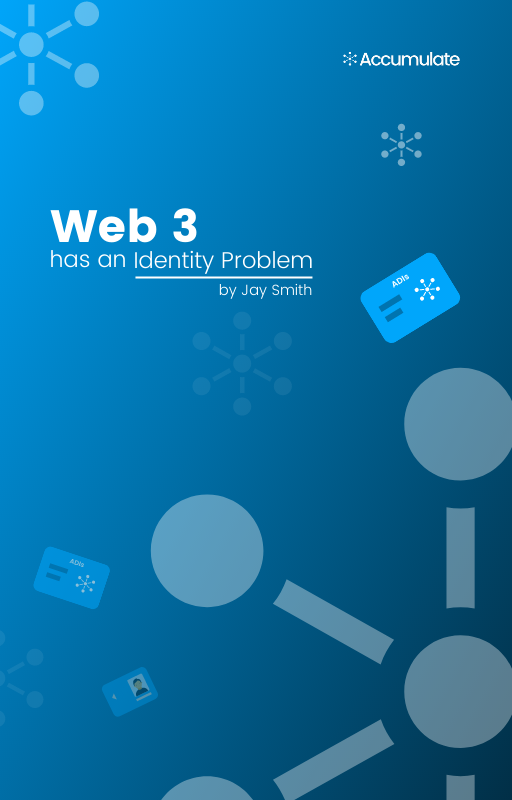 FAQs on Blockchain Based Identity
What is an ADI?
Accumulate is a paradigm shift for how blockchains manage data, tokens, and users. Accumulate is the first blockchain to be completely organized around Decentralized Digital Identity and Identifiers (DDIIs). Accumulate Digital Identifiers (ADIs) have powerful and novel uses within Accumulate to allow the blockchain network to be applied to a huge set of use cases. ADIs allow smart contracts, consensus building, validator networks, and enterprise-level management of digital assets that go beyond the simple and constrained smart contract based frameworks of other blockchains.
The W3C Digital Identifier standard outlines how multi blockchain Digital Identifiers (DDIs) can be made interoperable. Why use ADIs instead of DDIs?
Accumulate implements and uses ADIs, which can be thought of as a low-level identity transport. As such, ADIs can support W3C DIDs, but they can also support any other Identity/Identifier protocol.
How can ADIs be used, and what do they add to various blockchain use cases?
ADIs allow smart contracts, consensus building, validator networks, and enterprise level management of digital assets.  ADIs coupled with Accumulate's unique blockchain architecture allows validators to manage the content of the blockchain dynamically, so that smart contracts can integrate with real world operations. The ADI/Accumulate approach goes beyond the simple and constrained smart contract-based frameworks of other blockchains.  
What is a simple use case of ADIs?
ADIs allow the deployment of token gateways to give the ability of other blockchains to leverage the transaction speed and scale of accumulate. For example, 30 to 50 validators managing an ADI "A" can be used to validate the issuance of a token in Accumulate. A might wish to provide a gateway to Ether tokens. The validators ensure the Ether tokens locked up in Ethereum smart contracts match "A"'s issued Ether tokens on Accumulate. From there, "A"-Ether would be able to leverage the 70,000 TPS of Accumulate and trade between Accumulate users.
How are ADIs used to manage security, tokens, and data?
Users of Accumulate create ADIs, which manage the security and access to the chains within the ADI. In other words, an ADI controls the tokens and data in its own chains. For instance, an ADI can have a token chain, which keeps track of token transactions and token issuance as well as a data chain that records data entries. Accumulate implements many innovations for organizing and securing a blockchain. One example is the key chain, whereby permissions tied to an ADI are managed by a hierarchy of keys. Another is the option of scratch chains to coordinate the construction of complicated multiparty transactions. Scratch chains are cryptographically secure but pruned from the long-term history of the blockchain.
Can ADIs be used to build networks of blockchain services, data, and endpoints for processes supporting payments, business, education, regulation, entertainment, and social networks?
Accumulate developers can assist your team with:
– Understanding the decentralized digital identity opportunity as it relates to your organization.
– Advising on an implementation plan.
– Supporting and growing your decentralized identity use case.