2021 was a year of exponential growth for Accumulate. Some highlights include several successful testnet deployments, accelerated growth of our social communities, and of course the approval of the hard fork of Factom to Accumulate. While 2021 was a foundational time for Accumulate, it was built on top of many years worth of hard work and research through the development of Factom. Thank you to all community development teams, partners, community members, and everyone else who contributed to the significant progress made that will serve as the foundation for a successful 2022 and beyond!
Exponential Growth
We've grown rapidly since the development work for Accumulate started in mid-2021. Accumulate's decentralized development teams have transitioned away from "two people in a garage" and into a fully-staffed powerhouse of industry experts that have worked with leading brands in blockchain, finance, and technology. Some developers have foregone opportunities at multi-billion dollar enterprises to work on Accumulate as part of the mission to build a universal, interconnected protocol.
As seen in the chart below, we've grown our social community to over 40,000 people since August 2021 with the largest growth happening on Accumulate's Twitter, Telegram, and Discord.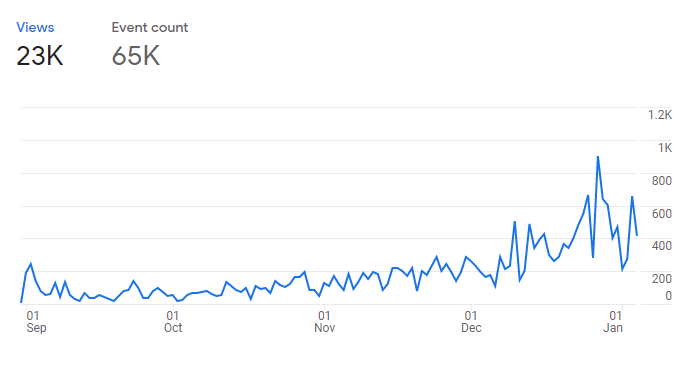 The above chart demonstrates growing web traffic to Accumulate, indicating a growing interest in the Accumulate protocol.
The expansion of community interest is further illustrated in the growth Accumulate's organic search traffic as measured by keywords. Accumulate went from ranking for 289 keywords in November 2021 to ranking for 352 keywords in December 2021– a month-over-month increase of over 21%.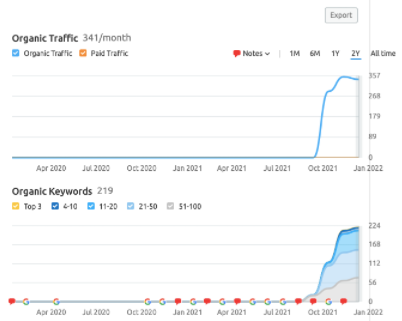 Some of the year's most significant highlights include:
Launched in early November 2021 and named after the famous Venetian Bridges, some of the features of Accumulate Testnet 1.0 were Lite Accounts, Mobile Wallet App, Token Faucet, Command Line Interface Tool, and a Block Explorer.
After a surge in the size of the Accumulate community in November and December, Testnet 2.0 Brooklyn featured several upgrades despite being launched just several weeks after Testnet 1.0. Some of the core additions added in the Brooklyn Testnet, named after the Brooklyn Bridge, include URL Addressing, ADIs, ADI token accounts, ADI Data Accounts, Keys, Key Books, Key Pages, and several features to our Mobile Wallet App.
Factom Validators Vote to Upgrade to Accumulate
Authority Node Operators (ANOs) on the Factom protocol have voted to upgrade to Accumulate, which offers new resources, a new protocol, and a new architecture. The upgrade process will take place around the same time as Accumulate's Mainnet Launch in March of 2022.
Despite only having 800 registrants for the Accumulate hackathon in mid-December, that number grew extensively to over 2,200 registrants as of the time of this writing on January 4, 2022. Some of the main goals for the Accumulate Hackaton include the creation of tools that make it easier to build on Accumulate, projects that help users interact with Accumulate, and the development of dApps on Accumulate. In total, there is over $8,000 worth of prizes for the top 3 projects.
Thought Leadership Content and Technical Guides
In addition to a robust offering of content for some of today's most pressing issues related to private data and blockchain, we've also released several technical guides which offer an under-the-hood look into some of the most advanced features of the Accumulate protocol. Some of the technical guides include Synthetic Transactions, Identity Hierarchies, and Key Management.
250,000+ Completed Testnet Transactions
With the first launch of the Accumulate Testnet in November and growing community interest, there have been greater than 250,000 testnet transactions completed. No issues with bandwidth or scalability have been reported.
Launch of the Accumulate Mobile Wallet
The Accumulate Mobile Wallet is a staple ecosystem product that enables users to create ADIs, ADI Token Accounts, manage their Keys, access a token faucet, and transact on the Accumulate Testnet. With hundreds of downloads already, the mobile wallet is slated for a new redesign and new features in coming product releases.
Github Commits
The number of Github commits increased steadily in 2021 from July to November. A slight pause in commit activity in December was expected with the holiday season in effect. However, development is off to the races in 2022 with heavy activity once again in just the first 2 days of January.
Additionally, the number of contributions to the Accumulate Github has grown steadily since June 2021. Even in December 2021 when there was a slight dip due to limited staffing throughout the holidays, there was still the same amount of contributions as the previous month but with a longer plateauing volume.
Some sources have identified that Github developer activity can be an evaluation metric for blockchain projects. For example, Santiment uses a 30-day developer activity ranking that incorporates factors such as issue interactions, pull request interactions, Github Wiki Edits, commit comments, and more.
Media Features
Accumulate has been internationally featured in multiple languages across different media publications such as Bitcoinist, AMBCrypto, BTCManager, and Newsbit. We anticipate additional media coverage to be generated for new product releases and the mainnet launch.
A Final Note
After a successful year in 2021, Accumulate now has a solid foundation to continue building a universal interconnect protocol for Web 3 that will reach a mainnet launch in March 2022.