Accumulate is among the list of sponsors for Web3athon, a hyperlocal people-first crypto hackathon that lasts from June 9, 2022, to August 31, 2022. Web3athon asks builders to create solutions for their home communities through a collaborative, paradigmatic shift in product design that puts people first. Instead of competition, Web3athon seeks to promote a collaborative environment. The event organizers include CoinDesk, CRADL, and HackerEarth.
Event Highlights:
3-months long
8,000 attendees expected
$500K in prizes at the end of 3 months
6+ hours of content for all participants via livestream
Exposure to the human-centered design process and hands-on support
In total, Web3athon has two stages. The first stage, Join, is when participants will utilize their own research methodologies in addition to the content that is recorded at Consensus in Austin (that is also provided through the Web3athon livestream). This first stage unites participants into teams where they form to submit ideas before July 24, 2022. After receiving the submissions, a shortlist of 30 – 40 teams will be chosen to advance.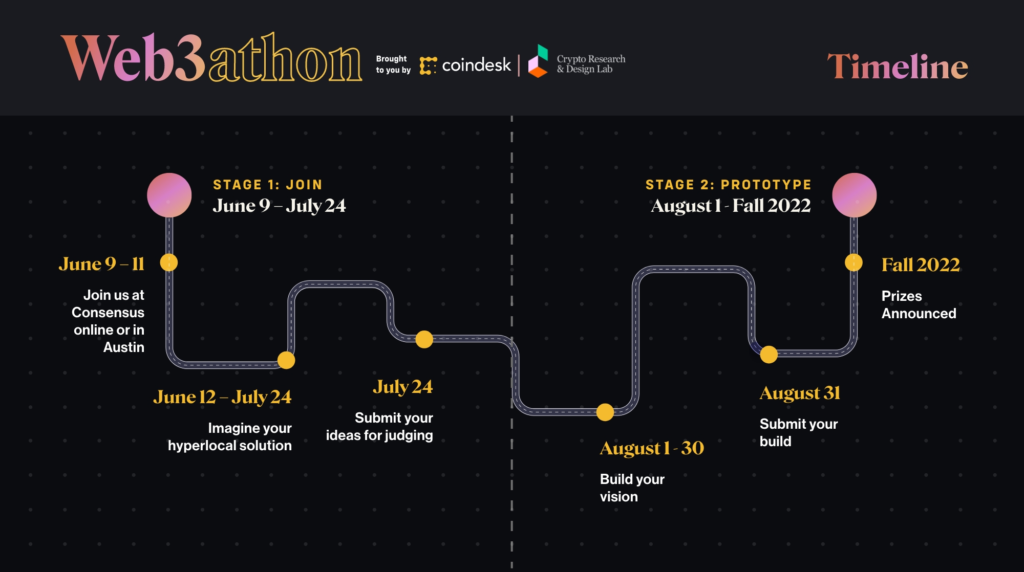 Teams can form in person at Consensus Austin, or online. The second stage, Prototype, is when teams of developers will bring ideas to life. On August 31, 2022, teams will submit what they have built and judges will select the winners in the Fall of 2022.

The Web3athon invites a full range of participants from different backgrounds, including:
Coders
Designers
Community Organizers
Policy Makers
Economists
Urban Planners
Artists
Virtual Participation
Programming for Web3athon will be available for free online through a livestream or in-person for Consensus attendees that purchased a ticket for the event. The content will also be recorded and posted live after the event.
Themes and Categories
One of the main ideas behind Web3athon is to create a design culture that is human-first. By doing this, it is possible to cater to a wide range of people, bringing the true promise of crypto to them across a variety of categories:
Generational Wealth Building
Financial Health
Sustainable Communities
Culture, Disaster Relief, and Response
Environmental Well-Being
What
As most hackathons solely provide technical resources, Web3athon goes several steps further and provides other resources related to people-first problem-solving.
Several unique components of Web3athon's content and formatting include:
Theme Brief: A 1-2 page summary of the theme, including sub-topic, key stats about the theme, and theme challenge statements
Related Links and Media: Examples both inside and outside of crypto that show what the judges are looking for. Content that is curated such as various podcasts and articles from CoinDesk. Additionally, there will be media that is provided by the partners and sponsors (see the list of partners and sponsors below)
CRADL Stories: testimonials, audio recordings, and quotes that allow our team to leverage our research network for a variety of voices.
Consensus Programming: Over 6 hours of uniquely curated content will be recorded in Austin from June 9-11, with live streaming available all around the world once the conference is over
Who
Partners include:
Africa Blockchain Institute
H.E.R. DAO
City of Austin
DreamDAO
Jumpscale
Impacqto
Black Bitcoin Billionaire
Women Who Build Web3
Sponsors include:
Circle
FileCoin
Accumulate
Celo
Boba
Polygon
QTUM
Stellar
Prasaga
Hbar fund
Acala
Polkadot
Provenance
Avalanche
Ripple
Aleo
Block Daemon — the official API sponsor of Web3athon