The Factom Protocol Authority Node Operators (ANOs) have affirmatively voted to upgrade and change into Accumulate as part of a plan to create a fast and scalable blockchain that is organized around identities. At 70,000 Transactions Per Second (TPS), Accumulate will be one of the fastest blockchains in the world.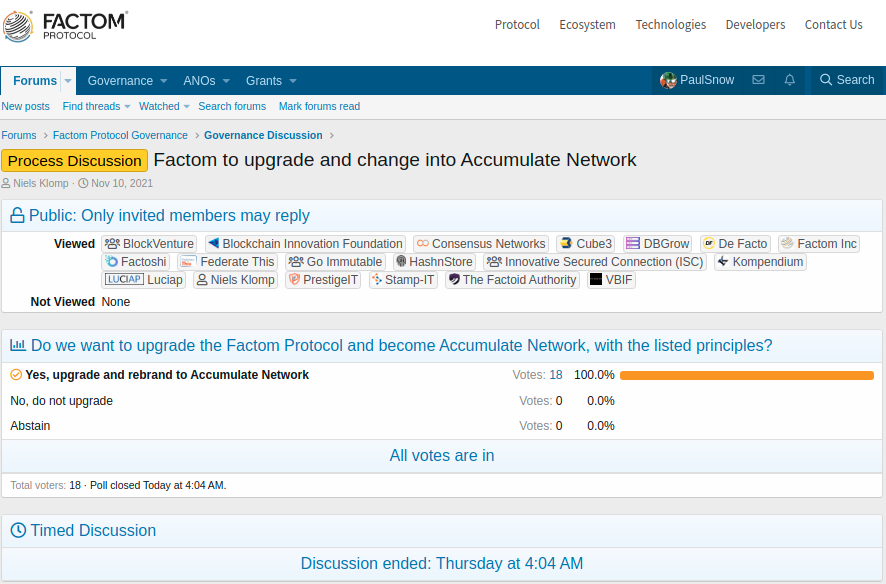 History of Factom
Factom is one of the earliest blockchain projects in existence today. It started in 2014 out of Austin, Texas by developer Paul Snow. At its earliest stage, the primary focus of Factom was to fulfill a gap in enterprise-level decentralized data solutions.
Issues with public records were a particularly interesting focus point for Factom. Factom's team found public records to be limited in the sense that they are challenging to verify and synchronize with lots of manual effort involved. Factom started to improve distributed public records with trustworthy, secure communication.
Following a successful Series A round of $8M that included Tim Draper and Medici Ventures, Factom Inc. began steadily building out its blockchain-as-a-service organization. The project received recognition amongst enterprises and began gaining momentum.
In 2015 when the Factom Protocol launched, it received extensive partnerships with government agencies which included the U.S. Department of Homeland Security. Continuing on this trajectory in 2017, TFA Labs became a recipient of a U.S. Department of Energy grant to use Factom's open-source blockchain to secure America's power grid.
In 2020, Factom Inc. was acquired and it became the basis for Accumulate.  Factom's technology serves as a foundation for the novel ideas in Accumulate. Accumulate brings revolutionary speed, scalability, and interoperability as a blockchain that is completely organized around identity.
Successful Vote and Transition to Accumulate
After a unanimous vote by the Authority Node Operators (ANOs), Factom Protocol will rebrand to Accumulate. The process of the rebrand and hard fork will happen around the time of Accumulate's mainnet launch which is expected in Q1 of 2022.
Lead Factom engineers Paul Snow and Jay Smith will continue to be executive leaders at one of Accumulate's community development organizations. The pair of engineers have revitalized the prospects of what they built previously and their talent will certainly help guide the future of the new protocol.
Accumulate is more than just another blockchain. Accumulate fundamentally reimagines how blockchains should be organized and organization matters. Organizing around identities rather than by addresses, Accumulate naturally matches enterprise organization which makes mapping business solutions into Accumulative simple and easy.
Where Does the Name Accumulate Come From?
The name Accumulate derives from the distributed Validator Accumulator architecture. In this architecture, hashes are accumulated over time as transactions take place on a network and set of identities. Validation is distributed across identities and the hashes accumulate into the network summary every second.
Accumulate Network contains an identity-based Vetted Proof-of-Stake algorithm that serves as a foundation for decentralized application developers. Through its identity-based approach to secure validation, Accumulate can be a blockchain-based DNS service for Web 3.0. The URL-based approach allows addresses and transactions to interact with one another naturally. Accumulate serves as both a communication and audit layer.
In Conclusion
Overall, the next era of identity-based Web 3.0 is in strong hands as the resources of Accumulate are matched with the foundational technology of Factom. As we move closer to the mainnet launch in early 2022, we're excited to see what the future brings with the hard fork of Factom to Accumulate. Stay tuned for more information in the near future on the conversion of Factom to Accumulate.